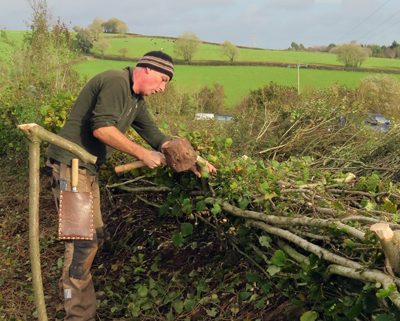 Hedge planting day – Another chance to roll up your sleeves and help enhance the environment for both people and wildlife. We are improving the quality of the hedgerows between Holyford Woods and the neighbouring hedgerows and copses to the north. This will improve the ability for a whole range of wildlife for bats, birds, dormice and insect life to move around the countryside. We will be planting oak trees into hedgerows and under planting an over grown hedge with a variety of shrubs and under-storey trees to provide more shelter and a more diverse environment providing a range of flowers, fruits and berries.
You are welcome to come along for as long as you like, just bring a packed lunch and a hot drink. Stay for as long as you like and bring a packed lunch if stopping all day.
Gloves, tools and drinks provided. Free event.
Booking essential: Pete.youngman@eastdevonaonb.org.uk  or 01404 310012
November 2017 Legacy to Landscape – Community Heritage Project Events
A chance to see the landscape in its glorious autumn colours and help improve its wildlife value. Hedges are a valuable wildlife habitat and home to much wildlife including the elusive dormouse and feeding areas for many of our rare bats. They are they green highways along which wildlife can safely travel and thrive. The project is working to improve hedgerows and connect them to the areas of woodland in the old Shute estate area.