To really make the day special, you are invited to dress for the occasion and here is a rough guide to help
Women
Blouse: White 'peasant 'style blouse, no decoration,  or plain white blouse, collar cut off, front turned in to create 'V'
Skirt: Above ankle length. Muted earthy colours, plain no pattern
(To make – use a 3m width, pleated onto a waistband, with a velcro, button or tie closure. Pleats are less bulky than gathers)
Apron: Long white or cream plain apron, tied at waist.
Shawl: A triangle of plain muted colour tied over blouse
Waistcoat: If desired, plain, no decoration
Shoes: Flat, dark shoes.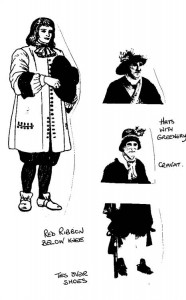 Men
Hats: Felt, straw or wool. Add bunch of greenery to brim
Shirt: White shirt cut off collar, roll-up sleeves.
Use white cravat at neck – no colours
Trousers: Black or brown, can be cut off below knee, tucked into long socks – beige, etc. Tie red ribbon below knee.
or Trousers below knee can be wrapped with strips of sacking.
Shoes: Flat black shoes. Can tie black or red ribbon around instep to hide modern laces. If using red ribbon below knee,Then use black ribbon on shoes.
Jerkin: Not necessary but an old coat could be used with sleeves removed. Lapels removed or turned underneath.
Coat: If worn, remove collar as above. Turn back cuffs to show white shirt.
Children: Girls – skirt & blouse. Boys – shirt & trousers
These are simple suggestions to give an impression of the times. Historical accuracy is not important. Advice is available. Please contact us for details. For further ideas, look on the Taunton Garrison website: www.tauntongarrison.org